[Tutorial] Build Windows Vista SP1 x86 DVD using vLite
Hi Everyone,

Recently Windows Vista SP1 has been released finally and it can be installed in three ways:
Using Windows Vista SP1 pre-integrated DVD
Using Windows Vista SP1 Offline Update installer and
Via Windows Update.

But Microsoft has stated that Windows Vista SP1 pre-integrated DVD can get only Microsoft partners, Business Consumers, MSDN & Technet subscribers and Microsoft Connect users. So there are only two ways to get Vista SP1 installed, but it take long time to install SP1 and terrible to install each n every time in fresh Windows Vista RTM. To solve this problem, I would like to thank vLite Developers and Community; they have released vLite with SP slipstream support and its simple tutorial that helps to slipstream SP in Windows Vista n build your Vista SP1 DVD.

Requirements:

How to:
1. First of all, install vLite and copy all contents of DVD into HDD folder, say F:\Vista
2. Now select the folder where Vista installation source has been copied (F:\Vista)
3. Select the edition which is to be upgraded to SP1


4. Proceed Next and only select Service Pack Slipstream option.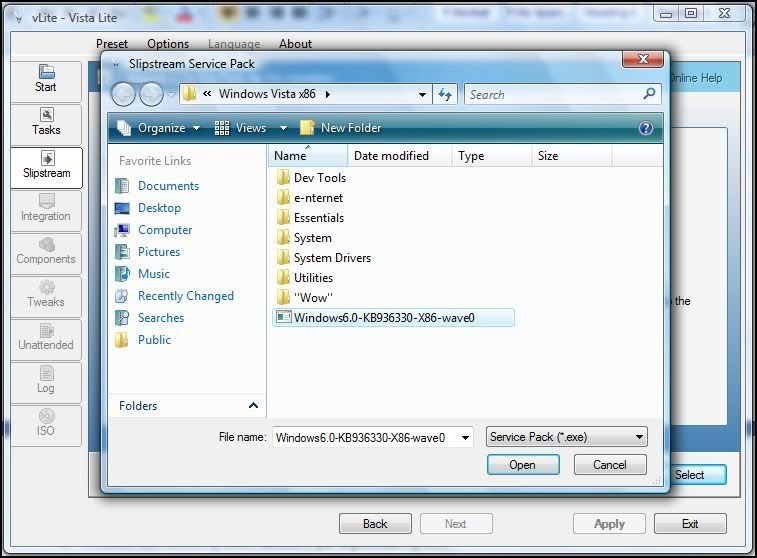 By selecting Windows Vista SP1 offline update installer, extracting and slipstreaming process will be started and it'll take 60-90 mins to accomplish the task.

5. After completion, create bootable DVD or image and get your Vista SP1 installed simultaneously.

(Only a single edition will be upgraded to SP1 at a time and to make complete Vista SP1….I mean, if you want to create all editions upgraded to SP1 disc. You have to follow the same process for each edition.)

NOTE: Don't select any other option such as integration, components, tweaks etc when slip-streaming service pack. One more thing, don't remove any component from vLited Vista image because it may cause interrupted installation.

I have slip-streamed all editions into Vista DVD and tested…all are working perfect. And It has been taken 8-10 hours….slipstreaming speed may depends upon your computer configuration.

Thanks to MVP Ramesh @ MW for Providing this Valuable Tut